AMD's free physically-based renderer can be deeply embedded inside Rhino 7.0. By harnessing the power of the GPU it can deliver stunning photorealistic imagery directly in the Rhino viewport
---
When it comes to photorealistic visualisation, Rhino users have a wealth of options. Now there's also AMD's recently updated physically-based renderer that can harness the power of either the CPU or the Graphics Processing Unit (GPU). And best of all, it's completely free.
Radeon™ ProRender for Rhino is developed by the same team that brings you the professional series of AMD Radeon PRO GPUs and features the latest version of the AMD Radeon ProRender 2.0 rendering Software Development Kit (SDK). Once installed, it essentially sits alongside the existing rendering engine inside Rhino 7.0. Furthermore, because it is fully integrated with Rhino it allows you to render models directly inside the viewport. You don't need to change your existing material definitions.
Free download and set-up
To install, simply search for AMD ProRender for Rhino in the Rhino Package Manager (Rhino command "Package Manager"), download and install. It is available for the latest Windows and Mac OS.
To activate the software, simply switch the renderer in Rhino 7.0. Go to the render pull down menu, or the render panel to the right-hand side of the window, and then switch the render mode on your chosen viewport to ProRender.
Viewport visualisation
Radeon ProRender 2.0 for Rhino can be used in any of the Rhino viewports. This means it can be deployed seamlessly throughout the creative process, with users able to flip between shaded, wireframe or rendered modes at the touch of a button, as and when required.
As everything is done within the familiar Rhino viewport, users have full control when setting up views. This can be done with the mouse or in the Rhino properties panel. Here users can control viewport size, as well as the camera position and target. The lens length can also be adjusted – a shorter lens to give a wider angle and increase the field of view; a longer lens to give the effect of a telephoto with less perspective.
Once you're happy with the way the scene is set up you can save the view so it can be recalled at any point. To preview any of your viewports simply switch the view mode from shaded/wireframe to ProRender. You'll immediately start to see your model resolve into a fully ray traced preview.
It's best to only render one viewport at a time but, with a powerful GPU such as the AMD Radeon PRO W6800, it would be possible to render multiple viewports.
Materials
Radeon ProRender 2.0 for Rhino automatically uses all of your existing Rhino material definitions and assignments. It works without any further modifications, so there is no need to apply additional or replacement materials. It also supports Rhino decals.
Lighting and scene setup
Radeon ProRender 2.0 for Rhino uses the standard Rhino environment to light the scene. Users can choose from presets, including a Studio environment with soft lighting provided by a high-dynamic range (HDR) image.
Third-party HDR image files can also be imported into Rhino. The latest release also now supports additional light types such as area and spotlights – you just need to make sure these are set to "linear" decay.
To make amendments to your scene, you need to switch to the Render panel on the right-hand side of the Rhino UI and ensure that your 'current renderer' is set to ProRender. You can then dive into the options and controls for all aspects of your scene, whether that's an HDR image for lighting and scene set-up or a ground plane control.
It's also worth exploring the ground plane options within Rhino. ProRender for Rhino adds a new material (ProRenderShadowCatcher). This is applied to ground planes to 'catch' shadows in a more realistic manner and can be applied to any required geometry, rather than Rhino's default Ground plane.
The power of the GPU
Unlike most physically-based renderers, which rely on the workstation's CPU for the complex ray tracing calculations, AMD Radeon ProRender 2.0 is based on OpenCL™, an open standard, so it can use CPUs or GPUs.
One or more AMD Radeon PRO W6400 (4GB), W6600 (8GB) or W6800 (32GB) GPUs are good choices for GPU rendering. They not only deliver the computational performance that can render scenes quickly but the higher end models have plenty of memory to store data for large scenes. This is particularly important when rendering at high resolutions.
All three AMD RDNA™ 2 GPUs have another trick up their sleeves in the form of hardware raytracing, which is designed specifically to boost rendering performance. Dedicated 'Ray Accelerators' built into the GPUs are architected to efficiently handle the complex intersection of ray calculations.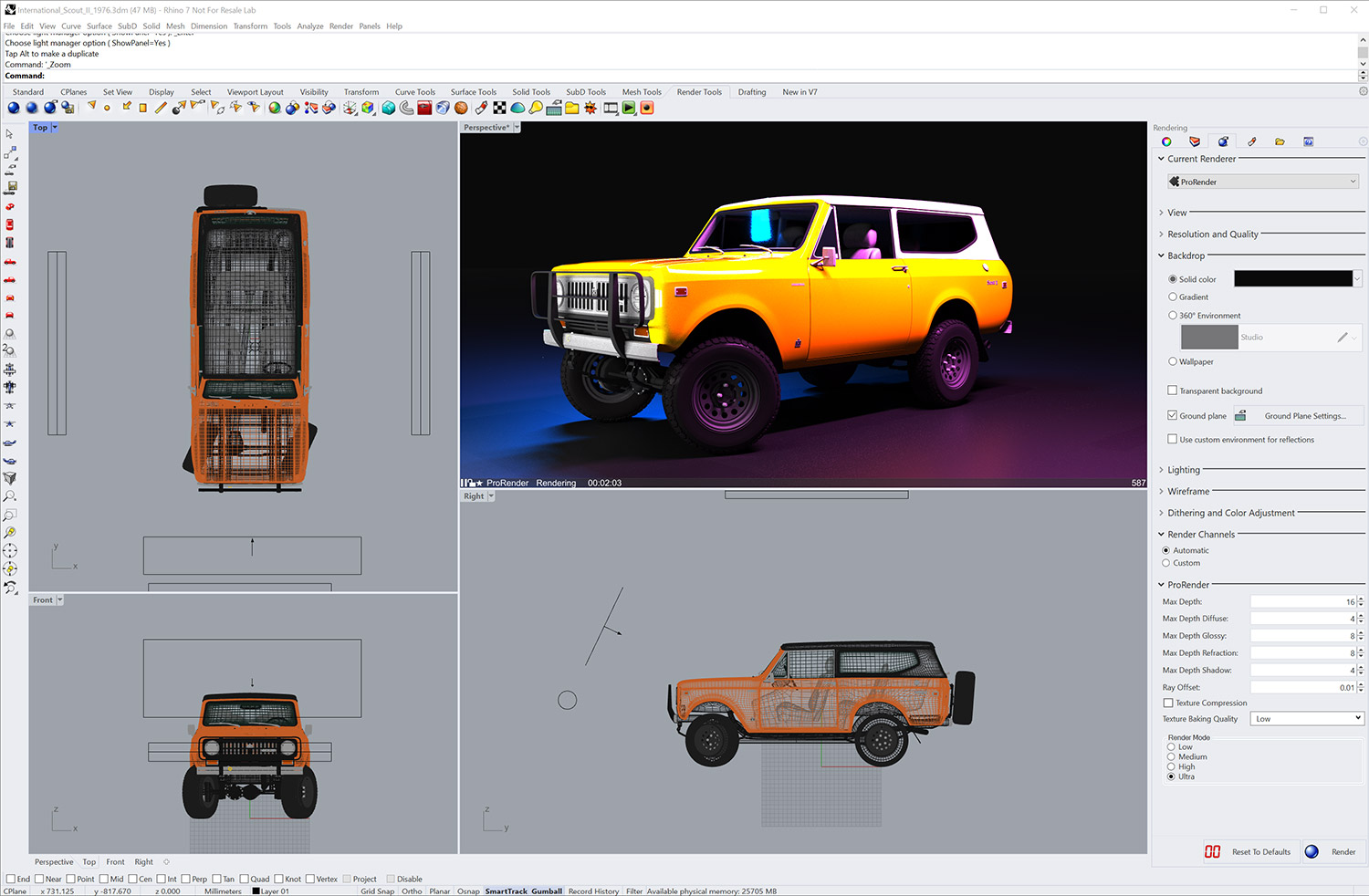 Multi-tasking
One of the challenges of ray traced rendering is its large computational demand. With CPU-based renderers, unless the workstation or software is tuned, and CPU cores are ring fenced, the system can grind to a halt. This can make it hard to do any other work on the same workstation until the render has finished.
AMD Radeon PRO GPUs are very good at multi-tasking. The GPU's asynchronous compute engine allows compute and graphics tasks to be performed at the same time. Even when the GPU is crunching through a render in Radeon ProRender 2.0, it will remain snappy and responsive when the designer needs to move the 3D CAD model in the Rhino® viewport.
Command line
Radeon ProRender 2.0 for Rhino benefits from its simplicity and tight integration with Rhino. While you are good to go with the default settings, there are several options to experiment with, as your requirements and scene/materials demand.
There is now full control over the number of ray bounces for reflections, refractions, shadows and more; the higher the number, the more realistic the result. That said, there are many instances where adding more bounces is not beneficial (for example, if you have no transparency in your scene, there's no point in increasing refraction bounce count). A careful balance needs to be struck to achieve the best renderings, but without overly complicating the scene and computation process.
The Ray offset toggle is also worth noting, particularly if you are rendering transparent objects which share the same 3D space. This will help ensure that the interaction of light and material at the point of co-existence is accurately rendered. The final set of options to consider are the Render Modes. These control the quality of the render and which hardware devices are used.
While 'Ultra' gets you the finest quality results and uses your GPU fully, for quick sanity checks and proof of concept renders, the other options get you a result much more quickly, but won't have all of the bells and whistles of realism and take advantage of the CPU/GPU in a hybrid manner.
Summary
Radeon ProRender 2.0 gives Rhino users a fast no-cost alternative for the creation of photorealistic imagery. As it works directly inside the Rhino viewport it can help make physically-based rendering an integral part of the design workflow. And if you want to get renders back even quicker, think about investing in a faster GPU, rather than a brand new multi-core workstation.
---
For more information
---
Mainstream Performance. Upgraded, and Always by Your Side
Delivering 4 GB of High-Performance Memory, Hardware Raytracing, Optimizations for 2 Ultra-HD HDR Displays, Accelerated Software Multi-Tasking, PCIe® 4.0 for Advanced Data Transfer Speeds, and Certifications for Many Popular Applications.
---
© 2022 Advanced Micro Devices, Inc. All rights reserved. AMD, the AMD Arrow logo, Radeon, RDNA, and combinations thereof are trademarks of Advanced Micro Devices, Inc. Other product names used in this publication are for identification purposes only and may be trademarks of their respective owners. OpenCL is a trademark of Apple Inc. used by permission by Khronos Group, Inc. Rhino is a registered trademark of Robert McNeel & Associates.
1. Testing conducted by AMD Performance Labs as of December 10, 2021 on a test system comprising Intel XeonW-2125 (Skylake-W) at 4Ghz, 32 GB system memory, Windows 10 Pro, Radeon PRO W6400 GPU pre-production sample with Radeon PRO Driver 21.40 Pre-release version / AMD Radeon™ PRO WX 3200 GPU with AMD Driver 21.Q3. Benchmark Application: Holomark 2 Benchmark/ PC manufacturers may vary configurations, yielding different results. Performance may vary based on use of latest drivers, production drivers and production silicon. RPW-393
2. Testing conducted by AMD Performance Labs as of December 10, 2021 on a test system comprising Intel XeonW-2125 (Skylake-W) at 4Ghz, 32 GB system memory, Windows® 10 Pro, AMD Radeon™ PRO W6400 GPU pre-production sample with AMD Driver 21.40 pre-release version or Nvidia Driver 471.68 with Nvidia T600 GPU. Benchmark Application: Holomark 2 Benchmark. PC manufacturers may vary configurations, yielding different results. Performance may vary based on use of latest drivers, production drivers and production silicon. RPW-394